Posted on Sep 12, 2014
White Street Brewery Beer Dinner
White Street Brewery Beer Dinner
Wednesday, October 8, 2014 @6:30pm
$65 per person (does not include tax or gratuity)
Call Now and Reserve a Space!!!
Posted on Mar 27, 2013
OpenTable Diner's Choice List: Best Service!
Based on reviews collected from OpenTable diners between February 1, 2012 and January 31, 2013, the 100 award-winning restaurants received the highest scores.  The list of winners is derived from more than5 million reviews submitted by OpenTable diners for more than 15,000 restaurants in all 50 states and the District of Columbia. For more information about all of the restaurants on this list, please visithttp://www.opentable.com/bestservice.
Posted on Nov 9, 2012
The Menu for the South African Wine Dinner
We are very excited to announce the menu for our upcoming South African Wine Dinner. See all the details about the dinner here.
South African Wine dinner
Wednesday December 5th, 2012
FIRST COURSE
pan-roasted new bedford sea scallop & crispy
pepsi cola pork belly
creamy root vegetable risotto, ginger braised swiss chard, sweet potato puree, spicy red cabbage slaw, roasted bell pepper & veal jus
DeMorgenzon Chenin Blanc, Stellenbosch, South Africa `11
SECOND COURSE
ancho chile & lime grilled north carolina black grouper
wild oregon mushroom & cannellini bean ragout, smoked collard greens, roasted pear & celery root salsa, balsamic & port reduction
Buitenverwachting Sauvignon Blanc, Constantia, South Africa `11
THIRD COURSE
rosemary grilled australian lamb rack lollipop
fingerling potatoes & white truffle oil mash, roasted asparagus tips, parsnip puree, creamy tuscan kale, vanilla bean & poblano golden raisin jus
De Toren "Z", Stellenbosch, South Africa `09
FOURTH COURSE
roasted johnston county sweet potato bread pudding
Klein Constantia – Vin de Constance `07
Chef de Cuisine Daniel Schurr
Posted on Mar 5, 2011
My Carolina Today visits Second Empire
Yasmin and Darrell visit Second Empire as a possible option for a reception site.
Talking with Chef

Wedding Planning at Second Empire

Posted on Jul 30, 2010
Special Package with Cameron Park Inn
Second Empire has teamed with Cameron Park Inn to bring you a special package.
Date Night Package
You'll know this experience is going to be special when your innkeepers greet you with a surprise just for Date Night guests. Then, begin your evening with a choice of romantic carriage rides:
1. J&L Carriage will take you from the inn to the fabulous Second Empire for dinner (take taxi back to the inn) or
2. Provide your own transportation to Second Empire and have the carriage meet you there for a one-hour, pre-dinner ride in downtown Raleigh.
A $75 gift certificate for the meal is included with either option in this package.
Advance notice is required. Please be sure to mention your carriage ride preference: inn to restaurant or pre-dinner downtown tour. To book the Date Night package, please email Nikki or call 919-835-2171 or 1-888-257-2171.
Date Night package: $235 weekdays. $185 weekends. (Package prices are in addition to room fees.)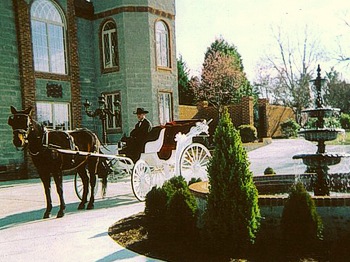 Posted on Oct 20, 2009
Now Accepting Reservations Online
Second Empire is happy to announce that we are now accepting reservations online via OpenTable.
You can begin an online reservation by filling out the following form:
You can also click here to make a reservation, or as always you can call us at 919-829-3663.
Posted on Feb 5, 2007
In the news: Chef's Table at Second Empire
Our Chef's Table Experience was recently written up in the Boston Globe. They enjoyed the experience, you should call now to set up your own visit to the Chef's table and create a unique experience!
Read the Boston Globe's article reviewing our Chef's Table.
if( $grozPostCounter == 1 ) { ?>
More News »
} else { ?>
Join us for dinner »
} ?>