WE ARE SO EXCITED TO WELCOME YOU BACK!
We would like to take this opportunity to let you know that our dining areas will be open again beginning Thursday, June 18th at 5pm. We will also be doing curbside pickup for those who would like to enjoy our cuisine at home.
What to Expect
Due to limited capacity in seating, RESERVATIONS are strongly recommended.
Upon arrival guests must check-in with a host.
If your table is not ready, or you do not have a reservation you will be given a wait estimate.
At this time, we cannot allow guests to gather or wait for seats/tables in the bar area due to distancing guidelines.
At this time, we will have limited seating at the bar due to distancing guidelines. Reservation only by calling (919)829-3663.
At this time, we will not be doing special occasion menus due to the handling process.
We recommend guests wait in their cars or in the parking area while respecting the 6 foot social distancing guidelines.
During inclement weather you may call us upon arrival to check in.
Our Promise to You
All staff members will pass a health check prior to each shift.
All seating options will comply with the appropriate physical distancing guidelines.
Hand Sanitizer will be available upon entry, throughout the restaurant and at the exit.
We will clean and sanitize common areas regularly.
All surfaces will be cleaned and sanitized after each use.
Our restaurant will be cleaned and sanitized daily by our private cleaning company using Virex Disinfectant products, which have been CDC approved
Food menus, Wine Lists, Cocktail menus will be available single use.
All Employees shall wear masks.
Our staff will have passed the Count On Me Certificate for COVID-19 protocol.
Your Promise to Us
If you have been exposed to COVID-19 recently or have symptoms of COVID-19 (including fever, cough or shortness of breath), or if you have underlying health conditions, please choose to use our curbside takeout at this time.
Thank you for your cooperation, support and patience as we navigate through these challenging and unprecedented times.
---
Welcome to Second Empire Restaurant and Tavern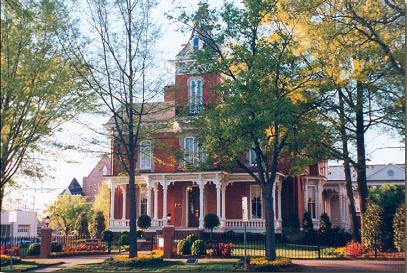 Imagine a dining experience that combines an atmosphere of classical history and elegance with a selection of cuisine that is as exquisitely unique as it is delicious. Then imagine delighting your senses with a world-class wine selection. Now imagine finding this right here in the Triangle. It's not imagination, it's Second Empire Restaurant and Tavern. Located in the beautifully restored Dodd-Hinsdale House in downtown Raleigh, Second Empire satisfies the highest of standards. Our delectable menu and polished service that have won us the AAA Four Diamond Award, the DiRoNa Award and the Wine Spectator Award of Excellence since 1998 will assure you a truly unique dining experience. Our Tavern and Atrium Room provide a more casual feel without sacrificing excellence. Simply put, a trip to Second Empire is an experience unlike any other.