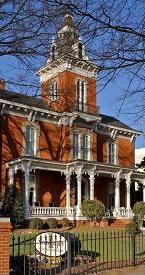 Second Empire Pictures & Visual Tour
Join us on a visual tour of Second Empire. View the exterior of the house. Our covered front porch is a favorite pre-dinner cocktail spot. Then come inside for a peek at the graceful dining rooms with their expansive windows and fourteen foot ceilings. Follow the hand-carved black walnut staircase down to the tavern, a cozy brick cellar serving more informal fare and excellent tap beers.
A Visual Tour of the house:
To get a sense of the history of the Dodd-Hinsdale house, read about its origins and how it evolved into its present incarnation as Second Empire in Our History.