Second Empire Menus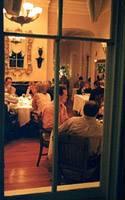 Second Empire strives to deliver the best food, service, and atmosphere in the Triangle.
Our Dinner Menu changes seasonally and features Chef Daniel Schurr's creations from the freshest seasonal ingredients. This menu is offered in all dining areas.
Under the direction of Chef Schurr, Second Empire has won the Wine Spectator Award of Excellence since 1999. Please call to receive a copy of our award-winning wine list. When ordering from Chef Schurr's fine menu, ask one of our knowledgeable servers which wine would best accompany your meal. You are sure to be pleased!
Our Pastry Chefs are up bright and early preparing the delicious desserts found on our Dessert Menu. Try one, or two, along with a cup of fresh-brewed coffee or with specially selected dessert wines. They also bake our breads fresh daily.
For your private dining needs, be sure to learn more about our private dining and event offerings. Whether you're in the Pine, Capitol, Raleigh Room or Atrium, we make every effort to accommodate your needs and ensure your complete satisfaction.