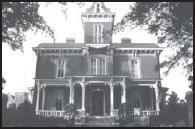 Early History of the Dodd-Hinsdale House
The Dodd-Hindsale House, located at 330 Hillsborough Street in downtown Raleigh, offers one of the last reminders of the beauty and grace that once defined the western corridor from the Capitol. Its architectural style is Second Empire Victorian, a style developed in France under Napoleon III and marked by heavy ornate modification of Empire styles. The interior of the home has fourteen foot ceilings and deep bay windows.
The home was originally built for Mayor William H. Dodd on a lot given to him by his parents in 1871. The home was completed in 1879 and soon thereafter was lost by the Dodd Family due to financial reversals. In 1890, the house was purchased by Col. John W. Hinsdale. Col. Hinsdale married Ellen Devereaux, a direct descendent of Joel Lane, soon after the Civil War. Everyday living for the Hinsdale family was formal. Assisted by a butler and a cook, every meal was served in the dining room with the good silver and china. The vestiges of southern hospitality remained in the Hinsdale house throughout its ninety-year history, always serving as a gathering place for family members and symbolizing, through its solid masonry walls, the solidarity of the Hinsdale Family. The house remained in the Hinsdale family until John, a son and the last Hinsdale, died in 1971 at the age of 92.
Following the death of John Hinsdale, several attempts by different individuals and groups were made to acquire and restore the house. Each of these attempts failed. Because the house was deteriorating and was also the object of vandalism and vagrancy there was a threat that the house would be demolished.
In 1993, Ted Reynolds, his wife Peggy along with their daughter and son, Kim and David obtained an Option to Purchase the property and quickly went about developing a strategy to restore the property to its initial grandeur. Within two years, the Reynolds family purchased the property and set into motion the restoration project to transform the home into a restaurant.