Below are details of the 2010 Second Empire 5k Classic.
The 2011 race can be found here!
Second Empire 5K Classic
2010 Second Empire Grand Prix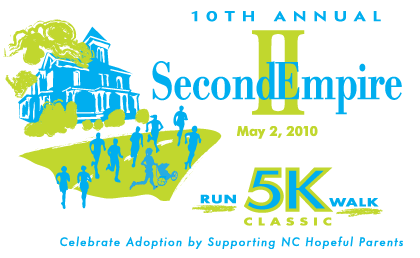 Presented By:

Second Empire Restaurant and Tavern congratulates everyone who came out for the 10th annual Second Empire 5K Classic.
Part of the 2010 Grand Prix Spring Series, the race was held Sunday, May 2, 2010 at 2:00 PM. The event once again featured the CU Fitness Center Pump 'n Run Competition.
The race celebrated adoption this year with proceeds benefiting Hopeful Parents. The mission of Hopeful Parents is to support, educate, and celebrate with members of the adoption triad. More specifically: to assist prospective adoptive parents in preparing to adopt, to provide community support for adoptive families and to honor birth families through charity.
This year's event included competitive and non-competitive 5Ks, a 1-mile fun run, as well as a kids' dash. There was also an expo area to learn more about adoption and supporting organizations. To learn more about Hopeful Parents and make a donation, visit www.nchopefulparents.org.
Competitive Race Results
http://results.active.com/pages/displayNonGru.jsp?pubID=3&rsID=92405
CU Fitness Pump 'n Run Results
http://results.active.com/pages/displayNonGru.jsp?pubID=3&rsID=92406