This is the Grand-Prix 2010 Page.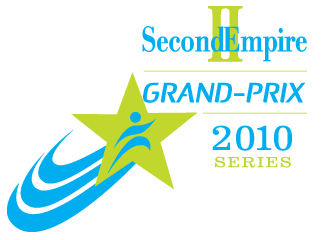 The official Running shoes of the Second Empire Grand-Prix
The 2010 Fall Series Results Are In
The Second Empire is dedicated to providing a great race experience. Click here to see all of the point standings and a list of the award winners. The date and time for the luncheon will be posted soon. watch your e-mail box or check back here for details.
Thanks and congratulations to everyone who participated or supported the 2010 Grand-Prix.
2010 Awards Luncheon
Congratulations to all the 2010 Second Empire Grand Prix Fall Series Winners!!  The Awards Luncheon will be on Saturday, January 29, 2011 at 12:00 Noon at Second Empire Restaurant and Tavern.
Please RSVP to kim@second-empire.com or 919-868-8171.
We will begin serving lunch shortly after noon once everyone has arrived and been seated. The Awards will be presented following lunch.
You are welcome to bring guests for $20 per person payable at the door.
Thanks for such a great series this year, and I look forward to seeing you on January 29th!
For full details, see our announcement on Second Empire.com!
2010 Fall Races – Click below to see the results
2011 Spring Races – Getting Started
For the current year, please visit the Grand Prix Series 2011 Page!  In 2011, we will again have 8 races this spring and 8 races in the fall for a total of sixteen races.
2010 Second Empire Grand-Prix | Grand-Prix Sponsors
2009 Second Empire Grand-Prix