Please visit the 2012 Race Page for the new year's series!
The Second Empire Grand-Prix 2011 Is Complete!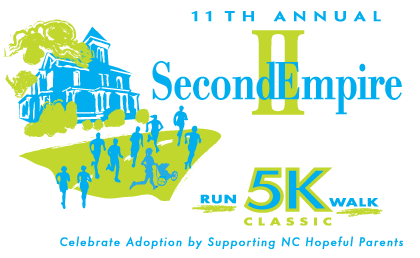 Second Empire Restaurant and Tavern is proud to present the 11th Annual Second Empire 5K Classic – one of the fastest 5K courses in the Triangle area.
The race will benefit the XANGO Goodness Foundation which distributes meal packs to starving children around the world.
Race Day is Sunday, April 17, 2011.  Register Online Now!
Second Empire Grand Prix Series
Born from the Second Empire 5K Classic, the Grand-Prix is the inspiration of Raleigh entrepreneurs Kim Reynolds and husband Rod Garnas, along with Inside-Out Sports owner Cid Cardoso.
In its ninth year, the Grand-Prix provides a fun way for competitive and non-competitive runners to give back to the community. Individual races pool a small portion of their operational funds along with Grand-Prix sponsors to cover series expenses.
The combined effort has provided races with increased visibility and attendance while decreasing operational costs. This savings can directly translate to larger proceeds going to the benefiting charities. 2011 sponsors include: Second Empire Restaurant and Tavern, Brooks, Inside-Out Sports, American Express, SportOften.com, Midtown Magazine, MYLAPS Sports Timing, Henry Wurst, Inc., and Endurance Magazine.
See more details on the Second Empire 2011 Grand Prix Series webpage.
Location
Location: 330 Hillsborough Street in downtown Raleigh
Start/finish in front of Second Empire Restaurant and Tavern
Course
Course is 5000 meters and is USAT&F-certified
Runners will start in front of Second Empire Restaurant and head east
Loop around the Capitol Building, heading west on Hillsborough Street
Pass the start/finish line, proceed to the turnaround point at Woodburn Road.
Then proceed back to the finish line in front of Second Empire
Splits will be called at the one-mile, half-way and two-mile marks
For a course map, go to www.usatf.org/events/courses/search and type in "NC11102NW" when prompted for Course Number
Course records: Abdul Alzindani (14:32) and Jemissa Hess (16:36)
Kids' Dash
This 100-yard run is for 6-year-olds and younger, and takes place immediately following the 5K (approximately 3:00 p.m.)
Each finisher will receive a medal
1-Mile Fun Run
The run takes place immediately following the Kids' Dash
Runners head down Hillsborough Street to the entrance of St. Mary's
School and then return back to the finish
Because this is a fun run, no official times are given and there are no awards. Runners will have a digital clock at the finish to give their times.
Entry Fees
5K (includes Tech shirt)
$20 up to and including April 9
$25 from April 10-16
$30 on race day
Note: Tech shirts are only guaranteed for registrations made before April 9
1-Mile Fun Run $10
Kids' Dash $5
Tech shirts $12 (must be ordered by April 9)
Packet Pickup
Thursday, April 14, 2011 from 5:00 pm-7:00 pm at Athlete's Foot in Cameron Village, Raleigh
Saturday, April 16 2011 from 2:00 pm-4:00 pm at 326 Hillsborough St., Raleigh (beside Second Empire Restaurant).
5K Awards
Gift certificates to Second Empire Restaurant and Tavern in the amount of $100, $75, and $50 to 1st, 2nd, and 3rd-place male and female finishers
Special custom-made glassware awards will also be presented:
First three master finishers of each sex
First three wheelchair finishers
First three finishers in each of the following age groups: (both sexes)
12-under, 13-19, 20-24,25-29, 30-34, 35-39, 40-44, 45-49, 50-54, 55-59, 60-64, 65-69, 70-74, and 75 and over
Safety
No bicycles, rollers skates, or in-line skates
No headphones or running with dogs
Race Results
Race results will be posted at the race beginning at 2:45 p.m. on race day
All performances will count toward state records and national rankings
For more information, please call Jim Young at 919-873-1207
Race Day Schedule
Noon – Registration and Packet Pickup begins
2:00 pm – 5K Start
3:00 pm – 100 Yard Kids' Dash
3:10 pm – 1-Mile Fun Run
3:30 pm – Awards Ceremony
Sponsors
We are always grateful to have such generous sponsors for the Second Empire 5k Classic.