Please visit the 2012 Series Page for the new year's series!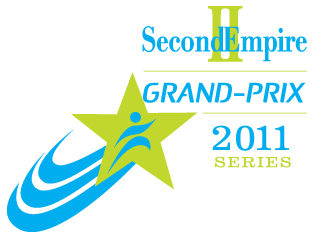 In 2011, we will again have 8 races this spring and 8 races in the fall for a total of sixteen races . The spring and fall races are scored separately. Remember, when you become part of the Grand-Prix, you earn points regardless of your time. So compete with your coworkers, family and friends.
We have a great series of races planned for the Fall Series:
We're looking forward to a lot of great races!
The Spring 2011 Grand-Prix Series Is Complete!
The last race for the Spring has been run, and we are so thankful for all the great runners who made the series so much fun.
The Spring Series Awards Luncheon will be held at Second Empire Restaurant and Tavern on Saturday, July 30, 2011 at noon.  An invitation will be e-mailed to all winners.
Here are the races for the Second Empire Grand-Prix 2011 Spring Series:
The standings for the Spring Grand Prix are now online!
Here's the story on the scoring. Your total score is the sum of the points from your best six races. If you complete all eight events, the two lowest scoring races will be discarded.
PRIZE and AWARD LUNCHEON ELIGIBILITY
To qualify for prizes and attend the award luncheon, you must meet all three of the following requirements:
1.   Participate in at least six of the eight Grand-Prix races for the series AND 2.   Register as a competitive runner for each qualifying race AND 3.   Be one of the top three point earners in your age/gender groupAdditionally, anyone who:
1.   Participates in at least seven of the eight races within a series AND 2.   Registers as a competitive runner for each qualifying race will be invited to attend the award luncheon at the Second Empire Restaurant and Tavern.
SPONSORS
We are always grateful to have such generous sponsors for the Grand Prix Series.