2007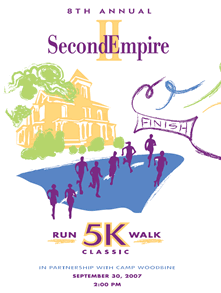 Second Empire 5K Classic
Second Empire Restaurant and Tavern is proud to present the 9th Annual Second Empire 5K Classic – one of the fastest 5K courses in the Triangle area on Sunday, October 26, 2008 at 2:00 PM. The event will once again feature the CU Fitness Center Pump 'n Run Competition. Located in downtown Raleigh in the elegantly restored Dodd-Hinsdale House, Second Empire combines history, atmosphere, and gourmet cuisine for an unforgettable dining experience. The exterior architecture of the Dodd-Hinsdale House is Second Empire Victorian, a style originating in France under Napoleon III. It represents the last example of this influence in Raleigh. For restaurant information, please call 919-829-3663 or visit www.second-empire.com. The Second Empire 5K Classic Run/Walk is the fifth race in the increasingly popular Second Empire Grand Prix Series. The Grand Prix has expanded this year and consists of nine of the best races in the Raleigh area. The other races involved in the series include the 5K Run for Healthier Babies on Saturday, September 6, 2008, The Magnificent Mile on Sunday, September 14th, Anna's Angels 10 miler on Sunday, September 28th, the Autism 5K Ribbon Run on Saturday, October 11th, the Second Empire 5K Classic on Sunday, October 26th, the Free To Breath 5K on Saturday, November 8th, the Inside-Out Sports Turkey Trot 8K on Thursday, November 27th, the Jingle Bell 5K Run on Saturday, December 6th and completed by the Bond Park Jingle Bell Trail Run on Saturday, December 13, 2008.
We have an impressive list of sponsors for this year's Grand Prix Series and this year's Second Empire Race. We are very grateful for all the support from our sponsors.
All competing runners in each race will receive Grand Prix points. Individuals accumulating the most points receive money and prizes from our purse of over $2,500.00! Winners will be recognized at a special year-end awards ceremony in January, 2009 at Second Empire Restaurant and Tavern. If you're interested in running with us on October 26, 2008, you can register online or download and print out a Registration Form.
Online:

Download: Race Brochure & Registration Form
Results Are In!
Race results for the Second Empire 5k Classic are in: Click here to view the results!
We also have pictures available from photographer Chris Watters. Proceeds from picture sales will go to Camp Woodbine.

Race photos from the 5k

Photos from the 100 yd and 1 mile fun runs

Photos from setup, registration, and warm up.
The Second Empire 5k Classic | The Second Empire Grand Prix Series
2006 – Last Year's Results
You can view the 2006 Second Empire race results and the results of the Grand Prix Series online:
We also have some pictures online from the 2006 race (click for bigger pictures):